Marilyn Manson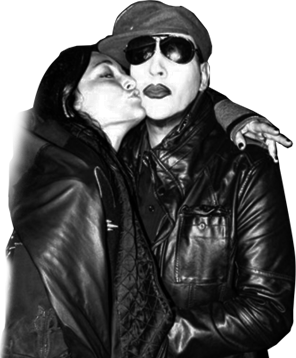 First i was intrigued by his luminous mind , then i was amazed by its whole work.
No one had touch me like this with rock'n'roll ,since Jim Morrison. And He, Brian Wagner, aka Marilyn Manson was quite alive. And engaged in his music, against the governments , the religions and all this system we are slave of , like the Pink floyd describe it very well in their movie The Wall , please refer to their "empty space" video clip, you won't waist your time !!! http://youtu.be/uzTQ_XP0Vxw
concerning Manson, all his video clips are moooore than worth it as well, like THE NOBODIES : http://youtu.be/qi5nTb-NRFU or THIS IS THE NEW SHIT http://youtu.be/u21aTl7lmHw
The Doors have been a real inspiration for Manson, we have also that in common. Brian get the occasion to share the stage with Ray Manzarek and Bobby Krieger. I missed that but i was very lucky to see and hear Brian several times now .I created for him a first jacket that i didn't manage offering to him at Bercy in 2010.
But I met him for the first time in 2012 when i convinced my friend and customer Christophe (the famous singer of "Les mots bleus" and "Aline") to follow me at the concert of Marilyn , Bercy 2012.
i didn't offer him a piece of my work at this moment , the opportunity to meet him thanks to Christophe was too sudden to create something high level enough for him.
But the year after, was the big time when rock'n'roll meets lord sm couture in Miami, on the Guns, God and Government Tour.
On the pic, the coat i made for him is on my back .
His last album "'The Pale Emperor" is genius !! As to me, Manson is getting better and better , and i still dream of working with him one day . This isn't the end of our story <3